Streaming network
Unlike many web cast providers we own and operate our own racks of servers. We have been hosting online content since June 2000 and have become very technically proficient as a result of running all our own software as opposed to using 3rd party services.
We like to think this gives us a technical edge over our competitors (we quite often find that we are called in when a previous company has not managed to deliver).
Capacity
Our network has grown as video has become more high definition. With our in house 100+ servers and access to global CDN's we can scale up to literally any level of capacity.
Broadcasting history
Our first broadcast was a jazz gig, with audio streamed over a hotel telephone box. We ran a local RealNetworks server and could support 3 connections. The band were a little scathing of a mass of cat5 and large CRT monitors, but soon changed their mind when a listener wanted to buy a CD.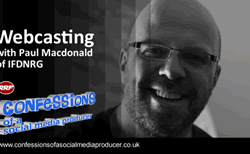 Paul Macdonald helped me out with a webcasting project I was running in Edinburgh. When I say 'helped me out', actually I mean he made it work properly using some IT gadgetry he's developed over a decade of broadcasting over the net.
Sam Thom, Scotland Votes hustings