Easystream have been streaming video since 2000 and can reliably handle your event, whatever it is.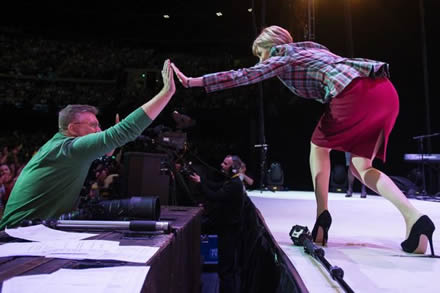 We webcast the concluding rally of the SNP's roadshow tour round Scotland at the SSE Hydro arena in Glasgow, which usually stages gigs by rock stars such as Beyonce, Lady Gaga and Kylie Minogue. Utilising multiple HD cameras and our ATEM HD-SDI 4K Vision mixer we handled overlays, live tweets to the big screen and the web and complemented an already strong 10,000 capacity audience with viewers from around the world.
Read more
We have been using IFDNRG for over 2 years now and have had nothing but excellence from them. Their portal system is a very useful way to find out day to day information and to complete tasks such as reboots and editing settings. They also answer email queries with well explained replies. In all the time we have used IFDNRG we have had no issues with our server, through updates, installs and reboots. IFDNRG always inform us before any of these changes occur as they do with all aspects of server management.
We've worked with IFDNRG for a number of years to host our video mystery shopping content. The service has always been great and it's reassuring to be able to pick up the phone and quickly speak to someone in the know..
Recommended! I have several sites hosted IFDNRG: WordPress, Joomla and Moodle. They all work well but when there is a problem from the client or my misunderstanding or whatever you get to speak to a knowledgeable person who remembers you. And it gets sorted out professionally in good time.
The British Karate Federation were extremely satisfied with the streaming you arranged for the 2014 British Karate International Open. It added a new dimension to our event and was managed superbly by IFDNRG Ltd .