Portfolio: SNP Roadshow @The Hydro
We webcast the concluding rally of the SNP's roadshow tour round Scotland at the SSE Hydro arena in Glasgow, which usually stages gigs by rock stars like Beyonce, Lady Gaga and Kylie Minogue.
Utilising multiple HD cameras and our ATEM HD-SDI 4K Vision mixer we handled overlays, live tweets to the big screen and the web and complemented an already strong 10,000 capacity audience with viewers from around the world.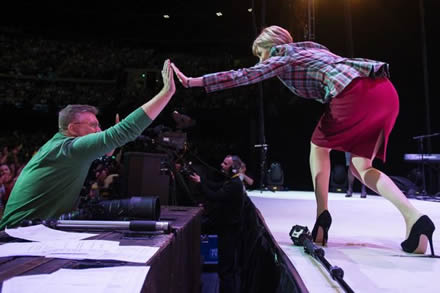 Live webcast project details
Project: Live Web cast, Overlays, live tweets to screen and web
SNP @ The Hydro

Featured
Streaming via You Tube for maximium visibility and scalability
Multiple Static, roaming and Jib mounted cameras
Live tweets to the big screen in venue, live animated overlaid straplines for bands, performers and speakers.

---